Making an Investment in the Future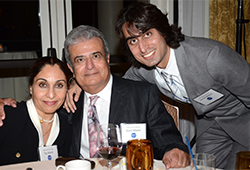 Before his first annual meeting ended, Asad Madni (2011) knew that the National Academy of Engineering represented his family's philanthropic values. "I never forget that achieving this privilege in my profession makes it incumbent upon me and my family to give back and help and guide the generation following us, especially the underprivileged." Joined by his wife, Taj, and son, Jamal, Madni decided to celebrate his election to the NAE with a major gift.
To leverage their contribution for maximum benefit to the NAE, the Madnis also established two member challenges -- which have raised more than $450,000. They are members of the Einstein Society - which recognizes lifetime giving of $100,000 or more, and Taj and Asad also joined the Heritage Society with a charitable gift annuity to provide future financial resources for the NAE.
"The engineers of 2020 will need to have extraordinary communication skills, and they will have to be able to work in interdisciplinary and multicultural teams with individuals from different areas of expertise and varied backgrounds, countries and cultures," said Asad Madni, former president, CEO, and CTO of BEI Technologies Inc. "They will need to be creative, imaginative and visionary while maintaining the highest ethics."
Madni and his family believe the NAE's work will help prepare the next generation of engineers, and they strongly support the NAE's engineering leadership in service to the nation. "I genuinely believe that a professionally successful career that does not include philanthropy is an incomplete and unsatisfying one."
Is a charitable gift annuity right for you?