An Invitation to Join the Heritage Society
Members of the Heritage Society have expressed their commitment to the National Academy of Sciences, National Academy of Engineering, and the National Academy of Medicine through a very special and important form of financial support. These living donors have named the academies as the beneficiary of a planned gift. Such gifts might include: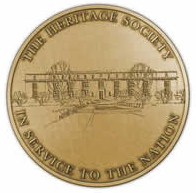 Members of the Heritage Society are honored at annual academy meetings and special events. Heritage Society members are listed in academy publications and on the donor walls at the historic National Academy of Sciences building on Constitution Avenue and at the Keck Center in Washington, D.C.