National Academy of Sciences Receives a $1.9 Million Legacy Gift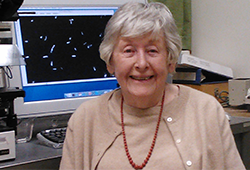 The National Academy of Sciences (NAS) has received a $1.9 million unrestricted bequest from the estate of Mary Jane Osborn (NAS '78). This generous gift will be directed to the NAS unrestricted endowment and will provide critical ongoing support for a number of NAS activites, programs, and initiatives. Dr. Osborn was elected to the NAS in 1978 and served on the NAS Council from 1990 to 1993, before her death in 2019 at the age of 91.
NAS President Marcia McNutt said, "The ongoing COVID-19 pandemic and the pressure it has placed on the Academy's unrestricted resources to meet the need for timely advice tailored to the crisis has underscored the importance of a healthy endowment to meet all of our ongoing priorities. Unrestricted gifts like Dr. Osborn's ensure that we continue to advance the NAS mission broadly while responding to immediate crises facing our nation and world."
Dr. Osborn's gift will have a major impact by ensuring that women in STEMM have an advocate on their side through the work of the Committee on Women in Science, Engineering, and Medicine; promoting human rights for scientists, engineers, and health professionals across the world through the Committee on Human Rights; advising the government on critical problems of international security and arms control through the Committee on International Security and Arms Control; and exploring the intersection of art and science through the Cultural Programs of the NAS.
Mary Jane Osborn was an American biochemist and microbiologist known for discovering the mechanism of action of the anti-cancer drug methotrexate. Her research career began in the late 1950s, a time when women were underrepresented in all fields of science, and when many major university biomedical research departments had no tenured female faculty. Her research earned her international recognition, leading to her election to the American Academy of Arts and Sciences in 1977 and to the National Academy of Sciences in 1978.
Dr. Osborn chaired the Department of Molecular Biology and Biophysics at the University of Connecticut Health Center and served as president of the American Society of Biochemistry and Molecular Biology. In 1980, President Jimmy Carter appointed her to the National Science Board, the governing body of the National Science Foundation.
"We are truly honored that Dr. Osborn provided such a wonderful gift to the NAS in her estate," said McNutt. "She was a leader in her field, and her legacy as a trailblazer for women scientists will continue through her generosity."