Kent Thomas (NAE '16) Leaves Estate Gift to Carry on His Legacy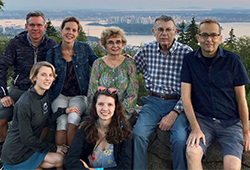 The National Academy of Engineering (NAE) received a $100,000 gift to establish the Dr. L. Kent Thomas Advance, Innovate, and Mentor (AIM) Fund. This fund is made possible in part by a charitable donation from Dr. Kent Thomas' estate to carry on his legacy.
The NAE was notified that they were a beneficiary in Thomas' IRA, shortly after his passing. Thomas' family reached out to the NAE and discussed how Kent's legacy could be continued. After being presented with some options, the family decided that creating an endowment named for Thomas supporting inclusion and diversity would carry on Thomas' passions in perpetuity.
The AIM Fund will provide critical funding to NAE programs that currently exist or are in development, such as the new Inclusive, Diverse Engineering for All (IDEA) Program. IDEA has been designed to provide practical foundations and inspire community activity to broaden inclusion and diversity as well as equitable and entrepreneurial talent development.
"The AIM Fund is not only a way to continue my dad's legacy, but it is also hope for the next generation and a means to prove that if you possess the passion and the patience to educate yourself in your area of interest, you can achieve anything you wish. My dad mentored students and colleagues throughout his career from different cultures and backgrounds, with many of them becoming lifelong friends. He would be so proud to know that this contribution will allow others to do the same," shares daughter, Jana Thomas-Roach.
Kent Thomas was always searching for a way to do things better and smarter. As a leader, he challenged his team to seek out solutions to problems that seemingly could not be solved, and then shared the solutions with other professionals in the industry. Kayleen Thomas, Kent's widow, comments " even though Kent was a world-renowned engineer and a top expert in subsurface flow modeling, he was very modest. He delighted in helping others make the most of their talents. He had a way of rolling up his sleeves and collaborating with his employees to develop new ideas and solve complex problems. Kent was a great conversationalist and an eager listener."
Kent graduated from the University of Oklahoma with honors and received a fellowship to attend The University of Michigan, where he received his Ph.D. in Chemical Engineering. He began his career with Phillips 66 Petroleum Company in 1966 and was promoted to Manager of Engineering Sciences a few years later. His new responsibilities included the development of reservoir simulation software for use within the company and application to major field projects such as Ekofisk in the North Sea and consultation with field engineers.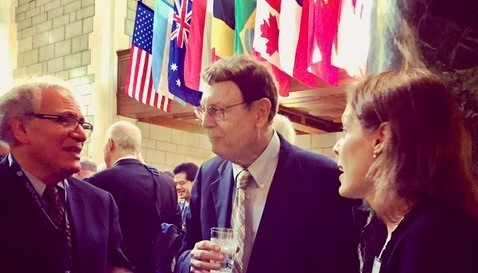 Abbas Firoozabadi, pictured on the left with Kent and Jana, was a colleague and mentee of Thomas. He also worked with the family and the NAE to help this legacy gift come to light. "Kent had the combination of two characteristics at the highest level. He was a world-class scholar and a genuine mentor. His willingness and ability to help other colleagues were phenomenal. He found talented individuals and helped them grow to their full potential. For more than 30 years, I was lucky to enjoy his sincerity, his help on many occasions, and to call him a close friend and mentor. He would always, without exception, help most sincerely. Kent was an example to follow," remarks Abbas.
Thomas has authored or co-authored over 50 technical papers throughout his career and served on more than 45 Society of Petroleum Engineers' committees, chairing many of them. He lectured worldwide in 1995 and 1996 and was inducted into the NAE in 2016.