Lending a Helping Hand to a New Generation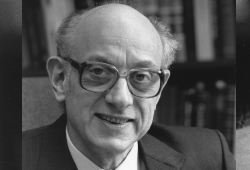 For a Latvian Jew who survived World War II and the Holocaust when many of his family members, including his father and brother, didn't, Edward Anders (NAS '74) can relate—almost too closely—to the beneficiaries of the National Academies' Scientists and Engineers in Exile or Displaced (SEED) program.
That connection is why Dr. Anders recently made a sizable bequest to support the SEED program's ongoing work and ensure displaced professionals can continue their research and academic studies.
A member of the Elkan Blout Society and now Heritage Society—due to his most recent gift—Dr. Anders says, "Even today, global turmoil is forcing many promising scientists to flee their home countries in hopes of finding a safer, brighter future in a new country. It's my turn to lend a helping hand, and I hope my contributions to the SEED program will enable a new generation of scientific exiles and immigrants to thrive in new homes."
The SEED program, established in 2021 by the National Academies of Sciences, Engineering, and Medicine, provides bridge opportunities that enable displaced scientists and engineers to remain connected to the global scientific enterprise. Initially focused on helping evacuate Afghan scientists and engineers fleeing the Taliban, SEED has since expanded to help Ukrainian researchers and scholars continue their work so that they are prepared to help rebuild Ukraine when the war with Russia ends.
While reflecting on his own experience as an 18-year-old who left Latvia in 1944 and emigrated to the U.S. in 1949, Dr. Anders notes, "My scientific career couldn't have taken shape without many supportive people who helped me make a fresh start in the United States after my family suffered the horrors of World War II."
Dr. Anders earned a Ph.D. from Columbia in 1954 and joined the University of Chicago faculty in 1955. Though trained as a chemist, his major research areas focused on studying meteorites, lunar rocks, and stardust. Dr. Anders won several awards for this work before retiring in 1991 to become a prominent researcher, speaker, and writer on issues related to the Holocaust in Latvia.