Michael D. (NAM '10) and Donna Lairmore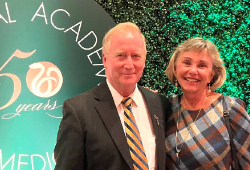 Michael and Donna Lairmore's belief in the National Academy of Medicine's mission led them to make a bequest to expand the Academy's work even after they are gone.
Dr. Lairmore (NAM '10) is the past dean of the School of Veterinary Medicine at the University of California, Davis and board certified in veterinary anatomic pathology, virology, and immunology. His research provided significant breakthroughs in the biology of human retroviruses and the understanding of viral-associated carcinogenesis. Donna B. Lairmore is a retired clinical nurse who worked for over 20 years initially in vascular surgery before moving to the women and infant care unit.
The Lairmores spent their careers in medicine and see the NAM as one way to continue their involvement in the field. "We are inspired by the expanded impact of the work of the NAM, which recognizes that human health is influenced by the interface of people, animals, and the environment," comments Dr. Lairmore.
As members of the National Academies' Heritage Society, the Lairmores have always believed in helping others and hope "to pay it forward for the next generation and help address societal needs."